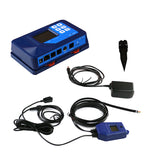 TrolMaster NFS-1 Aqua-X Controller with Water Detector set
The Aqua-X system is a professional-grade irrigation control system. It is a fully customizable modular designed system. Installation is simple and the system is easy to expand upon. The Aqua-X is designed to control up to 30 separate irrigation zones (24vac solenoid valves or 120vac pumps),  The Aqua-x monitors pH / EC and water temp as well as to monitor actual growing medium moisture levels by using up to (8) Water Content Sensors connected to a single Aqua-x controller. The timers can be set-up to be recycling timers, or to operate at specific time of day and durations. With the free TrolMaster App, the user can access all of the settings and alerts on the system from anywhere at anytime.
The NFS-1 is the brain of the Aqua-X system. It comes with a water detector WD-1 for leaking alert and watering confirmation.
TrolMaster NFS-1 Aqua-X Controller with Water Detector set Free SmartPhone App The Aqua-X Controller is the main controller of the Aqua-X irrigation control system. With the combination of pH Sensor and EC/Temp Sensor, Aqua-X can monitor the pH, EC and Temp levels of the nutrient. With the use of 110V control board and 24V control board, the system could manage up to 30 individual outputs for multiple watering schedules. With the innovative water detectors, the system could monitor each watering schedules with alerts for watering confirmation. Package Contents: Aqua-X Controller Water Detector Touch Spot 12V Power Adapter Features: LCD Display, Easy Operation Managing Multiple Rooms, Multiple Zones Delivery Control up to 30 Outputs (12V or 110V) pH, EC, Temp Monitoring Free Smartphone App with Alerts & Historical Chart Data Logging Specifications: Input Voltage: 100-240 VAC, 50/60Hz OA6-24 24V Control Board: Max. 5pcs per set* OA6-110 110V Control Board: Max. 5pcs per set* Water Detector: Max. 30pcs per set AMP-2 Sensor Board: Max. 1pc per set PCT-1 or PCT-2 EC/Temp Sensor: Max. 1pc per set PPH-1 or PPH-2 pH Sensor: Max. 1pc per set *NOTE: Combination application is workable for OA6-24, OA6-110 & DSP-1, but the total quantity can not exceed 5pcs (up to 30 outputs).