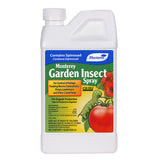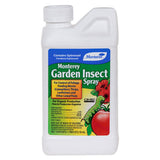 Monterey Garden Insect Spray with Spinosad
The active ingredient in our Garden Insect Spray is a natural bacteria called Spinosad, which is the newest agricultural chemistry to be introduced into the homeowner market. Safe for organic gardening, the spray can be used on outdoor ornamentals, lawns, vegetables, and also broadleaf weeds. Monterey Garden Insect Spray controls and kills a large variety of insects.
Monterey Garden Insect Spray Pint Monterey Garden Insect Spray uses Spinosad to effectively control thrips leafminers fire ants diamond-back moths borers and more. Gardeners mix four tablespoons of concentrated liquid Monterey Garden Insect Spray to one gallon of water (or as much as is needed for a single treatment) for easy foliar applications. Derived through fermentation of a naturally occurring soil bacterium this fast-acting insecticide is listed by the Organic Materials Review Institute (OMRI) and can be used on fruit and vegetable crops ornamentals and turf.
Aphid Issues
This Monterey Garden Insect Spray is working in my greenhouse to slow down the aphid explosion
Aphid Issues
This Monterey Garden Insect Spray is working in my greenhouse to slow down the aphid explosion